It seems fitting that on this day, when we honor the men and women who have made it their personal business to protect our country, we take a little look back in history.
I have mentioned before on the blog that I collect vintage and antique items relating to knitting and fiber arts.  I have an impossibly large collection of antique sock stretchers, some advertisement pieces, and many old knitting books, patterns and needles. 
One of my very favorite areas of knitting history was the Knit Your Bit campaign, headed by the American Red Cross during World War I. 
In 1917, at the start of World War I, the American Red Cross put out an urgent call for people at home to knit items needed desperately by our troops at war.  Among the items requested were wool helmet liners, wristlets, gloves and sweaters.  As the war went on, it became clear that the most needed items were wool socks, and the campaign began to drive specifically for socks. 
The campaign produced several, beautiful posters meant to inspire people at home to assist in the war effort of knitting woolen wear en mass.   Not only did women knit for the troops, but men and children also became part of the effort.  The need was such that knitting became acceptable anywhere and at any time, including in schools and at church. 
I have been on the look-out for original campaign posters for years, but it is nearly impossible to find them.  Prints abound, and reproduction copies are available all over the market.   
This weekend, while perusing vintage knitting related items on Etsy, I found (and purchased) this: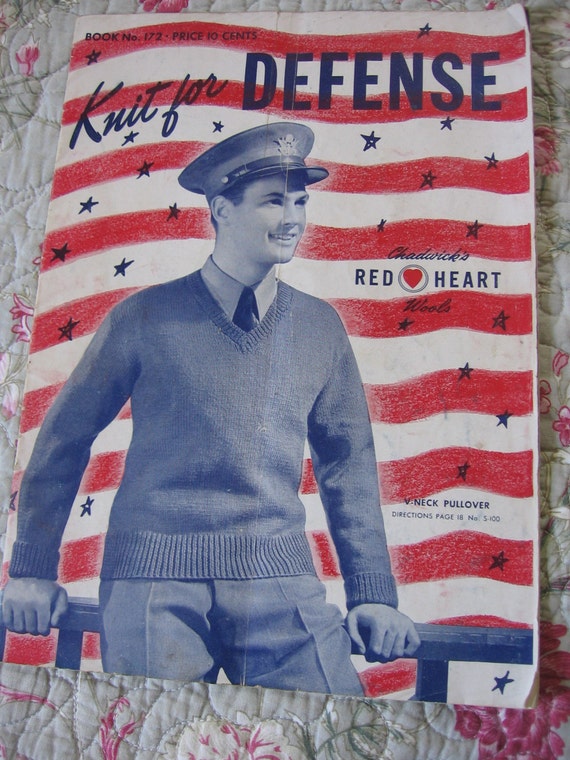 I was over-the-moon excited, because it appears to be an original pattern book for those knitting for the troops at war!  The date of this publication was 1941 (clearly well after WW I), which brings me to the next part of this story.
World War I ended in 1918, and people everywhere were able to return to knitting for their own personal needs again.  Two decades later, with the onset of World War II, a new campaign began.  It was known as Knit for Victory. At this time, the need for warm, woolen wear may not have been as dire as it was in the previous war, but knitting as an expression of support for our troops had been ingrained in so many that women at home again began knitting. 
This time, it was as much for the morale of those at home as it was for the pure need of warm woolens by the troops.  Even so, according to Judy Weightman (More Knitting History:  WW II),  "although scrap metal was collected and melted down for the war effort, steel knitting needles were exempt, since they were considered too valuable".    
The Knit for Defense pattern booklet that I found is from the WW II war effort.  I decided to look for more, and found (and also purchased) this one, also from the 1940's: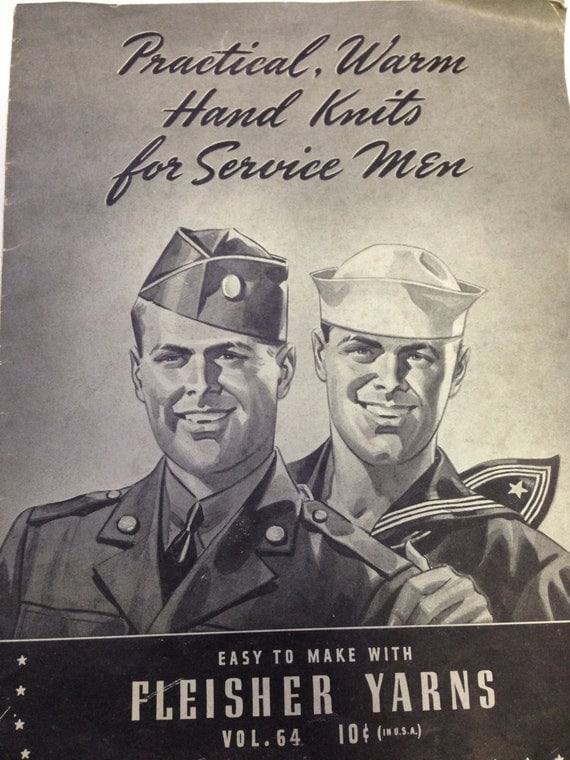 Pretty amazing, huh?  I just love owning a little bit of history that feels important to me.  I think it is wonderful that people hold on to these things after so many years.  Many were likely tossed into the trash over the decades. 
I would love to find an original war poster some day, or even an original copy of some of the patterns that the Red Cross was known to distribute for the effort in WW I.  Until then, I will just enjoy the fun of keeping an eye open for these little relics from a history that I don't want to forget.
~Happy Memorial Day!
For more information:
See this great history link essay by Laura Becker
See print and photographs archives in the Library of Congress
See awesome knitting archives in Judy Weightman's blog